With the second Sunday in May approaching, many have doubts about how to give gifts. At baskets for Mother's Day are quite successful, as this is a way to pamper your mother and also to create an original and different gift.
A very common question is what to put in the breakfast basket for mom. There is no basket list for Mother's Day. The important thing is to think about items that she likes and that help to make this moment more special.
In addition to the traditional breakfast basket for Mother's Day, you can think of other ideas, such as the chocolate basket or even the baskets with wines and beers.
Needing basket ideas for Mother's Day? See these 50 suggestions that we separated!
Oh and be sure to see the té at the end of the post, because there is a video with lots of ideas and a step by step how to assemble a basket for your mom, she will love it.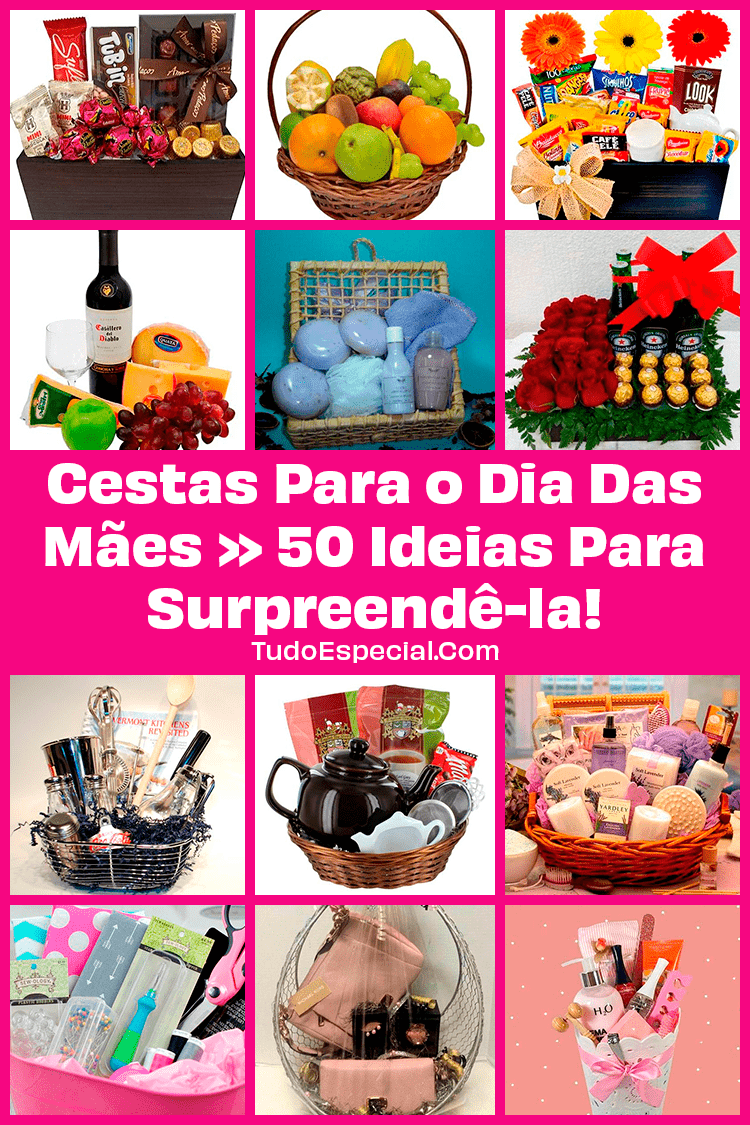 1 – Full breakfast basket for mom
The basket of Breakfast is one of the most sought after for Mother's Day.
And you can assemble it in several ways, from the simplest to the most complete.
If the idea is to please the big mom, how about this basket full of delights?
It features mini panini, chocolate, sweet cookies, crackers, muffin, grape bunch, cappuccino, jam, yogurt, apples, imported pates, sliced ​​cheese, juice, toast, waffer and a beautiful cup.
2 – Breakfast with gerberas
Want to make your Mother's Day breakfast basket even nicer?
Add some flowers to decorate.
Gerberas are great ideas, because they are colorful, cheerful and very delicate.
This version is also very complete, since it has: coffee, alfajor, cereal bar, sweet and savory cookies, cake, cappuccino, jam, wafer, toast, toast and another teapot and cup.
3 – Basket of snacks and beer
The breakfast basket is not a good gift idea for your mom?
If she prefers to have a beer with her friends and snack, how about this idea?
The basket has 4 Budweiser beers and several delicious snacks!
4 – Assorted chocolates
Among the basket ideas for Mother's Day, the versions stuffed chocolate are very successful.
After all, which woman doesn't love to receive a delicious treat like that?
This basket in the picture has Alpine chocolates, Sonho de Valsa chocolates, Amor aos Pedaços chocolates box, mini alfajor Cacau Havana, Waffer roll and Suflair.
5 – Wine and chocolate basket
He liked the idea of ​​the chocolate basket, but he wants to give a sophisticated touch to the gift for Mother's Day?
A very nice option is to include a quality red wine.
This basket has: 1 Concha Y Toro wine (merlot), 2 Lindor Milk chocolates, 2 mini alfajor from Cacau Havana and 6 Lindt chocolates.
6 – Breakfast basket with roses
Do you prefer traditional Mother's Day baskets?
So put together a stuffed version for delicious breakfast.
Add some roses to make the idea even more special.
This basket model has: coffee, panini, cookies, cookies, cappuccino, fruit, yogurt, pate, cheese, juice, toast, honey, jam and a beautiful cup.
7 – Tea basket
How about, instead of assembling a breakfast basket, invest in a version for afternoon tea?
This is a different idea of ​​baskets for Mother's Day and will win the hearts of many moms.
The basket has assorted national tea sachets, assorted English tea sachets and a thousand leaf mini snack.
8 – Beer and chocolate
Did you like our idea of ​​mixing an alcoholic drink and chocolate, but your mom isn't a big fan of wine?
Okay, because you can think of a version with imported beer.
This idea mixes Ferrero Rocher bonbons with Erdinger Dunkel beer (which is more full-bodied and combines very well with chocolate).
9 – Basket of sweets
More than a delicious breakfast, does your mother love sweets?
For sure this is an excellent idea for baskets for Mother's Day.
In it, you should include several delicious sweets such as: Nutella, happily married, brigadeiro spoon, various types of bonbons and it is also possible to innovate, including wine and glasses.
10 – Classic breakfast basket
Are you finding our ideas for Mother's Day baskets very creative and different?
If you're not sure if your mom will like these innovations, opt for the classic breakfast basket.
Inside, in addition to some flowers, you can add: cookies, jellies, yogurt, breakfast cereal, panini, grapes, cheese, coffee, powdered milk, fruit juices, honey and others.
11 – Special basket
For the most sophisticated and refined moms, how about a special basket?
This idea brings together several items that may please your mother.
For example: wine, cheese, Ferrero Rocher chocolates and seasonal fruits.
12 – Wine kit and other delicacies
For more sophisticated mothers, there are several basket ideas for Mother's Day.
The important thing is to think of items that please her taste.
In this idea, you will assemble the basket with wines, chocolate and handmade cookies.
13 – Fruit basket
Is your mother not a fan of treats and prefers natural and healthier foods?
A good idea is the fruit basket, which you can assemble or buy ready-made.
On average, you can add around 15 fruits, always giving preference to those of the season.
14 – Wine and cheese basket
Mothers who love wine will surely like this basket idea for Mother's Day.
It is composed of wine and cheese that harmonize with each other.
Think about the wine that your mother likes best and then create a cheese and fruit list to accompany you.
15 – Full breakfast basket
If you are afraid of making a mistake, invest in the breakfast basket to give to your mother.
Make the basket very complete, with cheese, jam, cookies, toast, juices, fruit, cakes, cappuccino and some flowers to decorate.
16- Teddy bear, champagne and flowers
17- Basket with bath products
18- Tulips and chocolates
19- Basket with balloon
20- Different arrangement
21- Beer, roses and chocolates
22- Basket with various treats
23- Manicure kit
24- Coffee basket
25- Kitchen kit
26- Ice cream basket
27- Pizza kit
28- Cinema basket
29- Tea kit
30- Basket of snacks
31- Pedicure kit
32- Relax basket
33- Beauty products
34- Luxury items
35- Chocolates and snacks
36- Pancake kit
37- Cold and wine basket
38- Healthy breakfast basket
39- Assorted cookies basket
40- Picnic basket
41- Makeup kit
42- Comfort basket
43- Cupacake kit
44- Bathrobe, towels and bath kit
45- Painting kit
46- Basket of sewing materials
47- Kit for planting succulents
48- Beach basket
49- Office supplies kit
50- Basket for gardening
See some basket ideas for Mother's Day and a step by step.
Still wondering which basket your mom will like best? Then watch the video, see lots of basket ideas and learn how to make a breakfast basket.
After seeing all these baskets for Mother's Day, did it become easier to choose yours?
Enjoy and see other gift ideas for Mother's Day! "