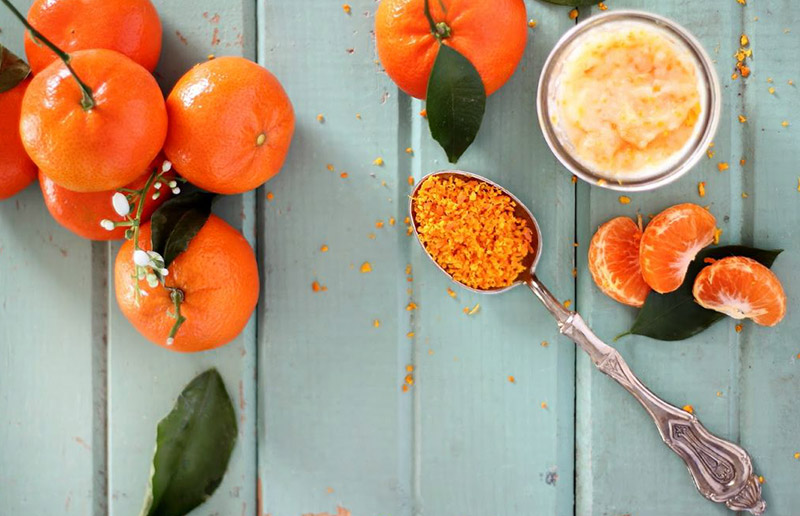 Want a recipe to make and use over the weekend or give as a souvenir at a party? Come and try this!
After a certain age, we kind of lose hope of taking something home from a party (except for the sweets that can be pilfered ;-P). So why not surprise your guests with a homemade scrub with a scent of tangerine. Hard not to like it. And it has everything to do with the ideas for the #festadatangerina that Casa & Cozinha gave this week. ;-D
500g of crystal sugar
1 ampoule of vitamin E
1 cup of coconut oil
15mL of mandarin essence
Food coloring (optional)
1 tangerine (optional, only peel zest is used)
Packing
Put the sugar in a bowl, pour the coconut oil, and mix well.
Add Vitamin E.
Add the mandarin essence.
Put the dye very little by little, mixing from droplet to droplet until it reaches the desired color.
Grate the tangerine peel (using a grater or zester) and add to the mixture.
When it's even, your scrub is ready.
Put everything in a nice little pot. Make a label if you wish. There's one to download here.
The tangerine scrub should be used on the body, when bathing. Finished washing? Pass the scrub in circular movements on the body with your hand or with the aid of a vegetable loofah. Pay a little more attention to areas of thick skin, such as the knee and elbows. Then wash as normal. The tangerine and vitamin E scrub activates circulation, and leaves the skin soft and smelling delicious!

Note: coconut oil is not the cheapest ingredient in the world, so our suggestion is to make this treat for more intimate parties (or give as gifts to moisturizing crazy friends). The image is via A Pumpkin and A Princess.
The scrub does not contain any ingredients that cause allergies (especially if no dye is used), and it should also not be ingested. In this case the validity period is the period of useful life, during which the product maintains its original characteristics. That is, if the appearance, color and smell are pleasant, you can continue using the product. You don't have to stay in the fridge either. If you stay in a cool and airy place, it will last longer. But you can leave it in the bathroom stall.
Recalling that this idea has everything to do with #fangeradatangerine.