Red-eyed. Of white hair. Light step. I'm the bunny! Ah, I bet you already sang "Easter Bunny". This song has been around for generations and if you want to teach children to sing, just click here to watch the Galinha Pintadinha video. While you sing with your children, nephews or grandchildren, how about taking advantage of our 10 ideas for making an Easter bunny?
So, you create the family traditions and can repeat every year. You can meet, in the same house or, more suitable for the current ones, use the tools for online meetings, and sing together and each one creates his bunny What about? But if you don't want to sing, you can watch the video together An Easter Tale (Easter Special) | Monica's Gang. The video is 25 minutes long and can be really cool to watch virtually with your cousins, friends and grandparents. What about?
Ah! One of the tips from Mauricio de Sousa and Turminha in this video is to do that Egg hunt that children love. So, we took the opportunity to leave the post here How to do an egg hunt and even have ready-made free tracks for you.
Well, let's create beautiful bunnies to give as gifts, decorate the house or, simply make art and play!
01 – Rabbit mask
This mask is super cute and you want an idea of ​​what to do with it? Ask the children to create and then take pictures and send it to the family and friends who still can't meet in person. What about? In fact, they can make masks and leave them at the door of the building's friends or neighbors with that affectionate note. To see how to make the mask just click here. Our first suggestion among 10 ideas for making an Easter bunny!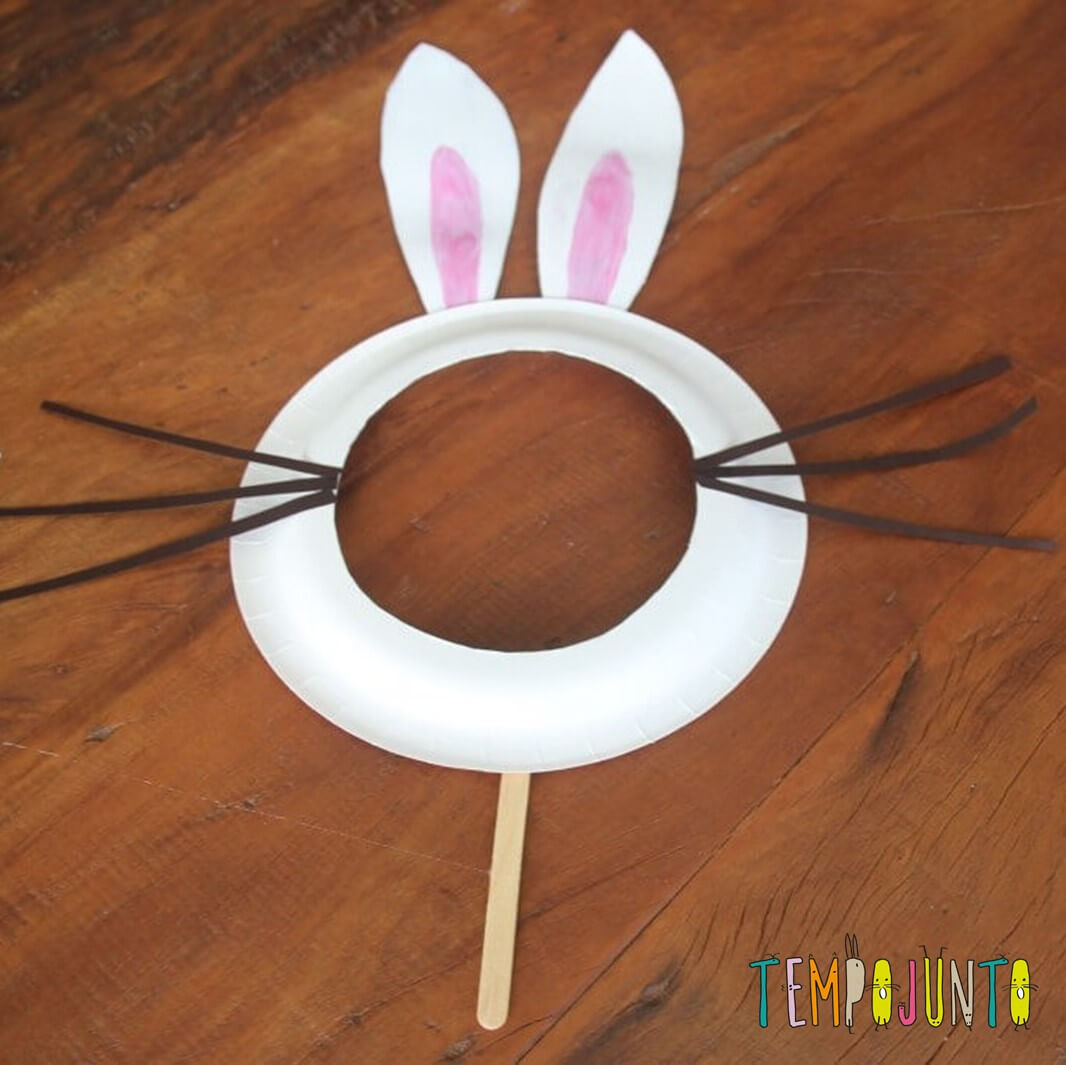 02 – Bunny sock
In your home you also have the Valley of the Lost Stockings? That place where only one foot of the socks goes and leaves the other lost in the washing machine or dryer lol. Well, don't throw the sock left behind. For her, we have two ideas. As we showed in our second suggestion among 10 ideas for making an Easter bunny, you can create this cute bunny that we saw on the website thekeeperofthecheeriose we publish in this post here. The site is in English, but the images already help a lot and, if you need to, don't forget that we have Google Translate.
Ah! So, the second idea is to save the socks and when you collect a little or a lot of them, donate to the campaign "Meias do Bem", which recycles each piece into blankets for needy people. Cool, huh? Enjoy and make a box of the lost socks with the children, tell who they are going to donate and what they will become. So you help and still teach about solidarity.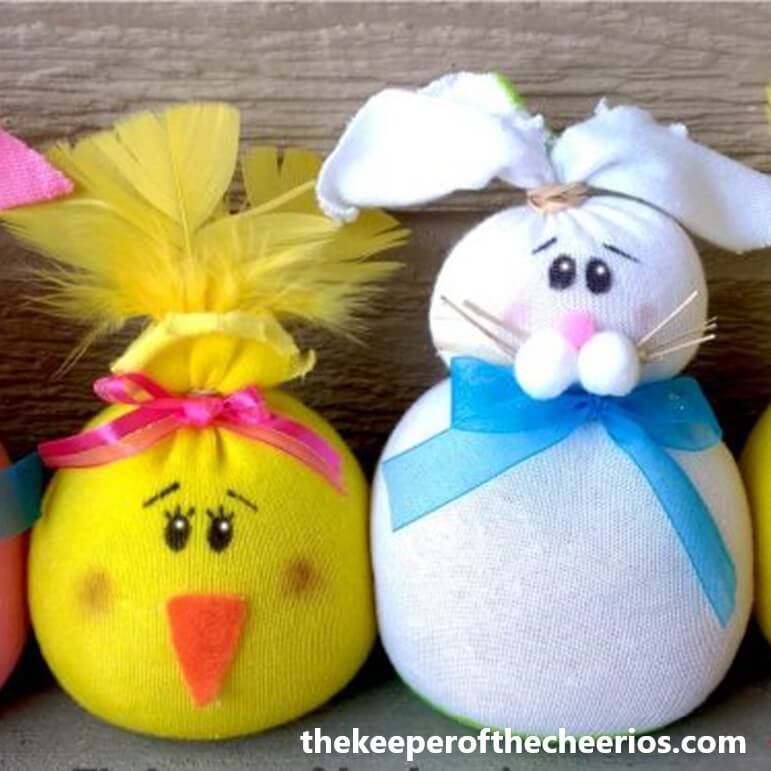 03 – Cup rabbit
There are many games and creative arts that we can do with a plastic or paper cup. The bunny in the photo was made by Patricia Marinho and her daughters, as a gift for teachers. They are simple and beautiful to decorate the Easter table or give as a gift. In addition, children can also put chocolate eggs in cups. Did you like this idea of ​​how to make an Easter bunny?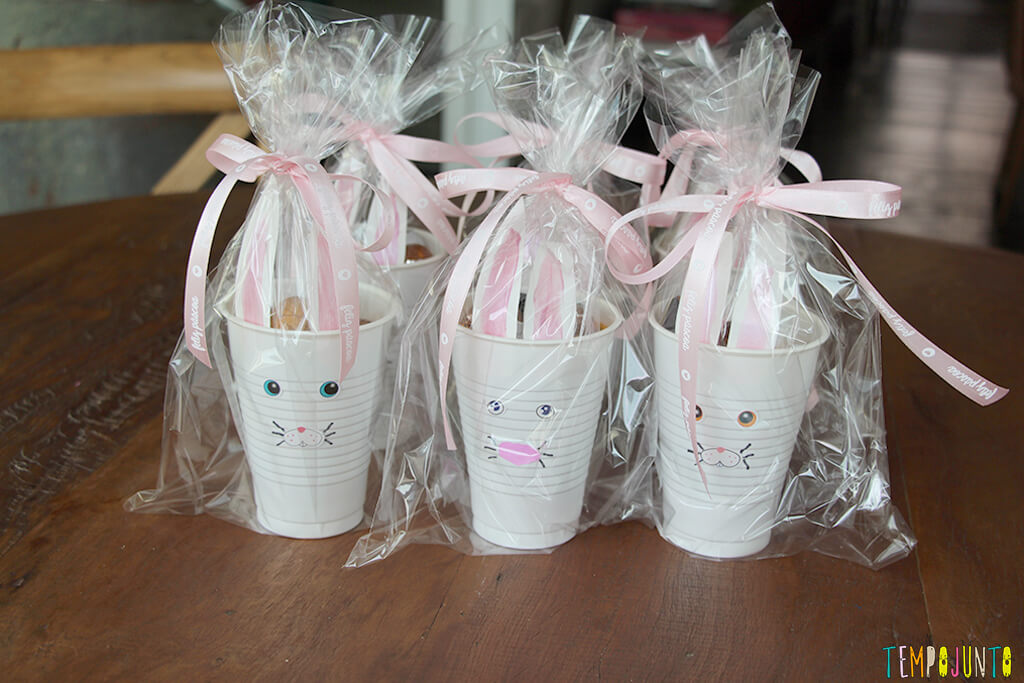 04 – Rabbit Pinata
Another option for children to prepare is to make a pinata! But, you may be wondering, but here at home we'll only be staying with two adults and one child… So, pinata is fun to make and play! Create the rabbit piñata and then play who can reach the pinata blindfolded, for example. Children love to have fun, but so does she love to see their parents, and adults in general, letting out those good laughs and, of course, making mistakes when it comes to hitting the piñata! To see how to make this beautiful pinata that we saw on the site studiodiy, just click here.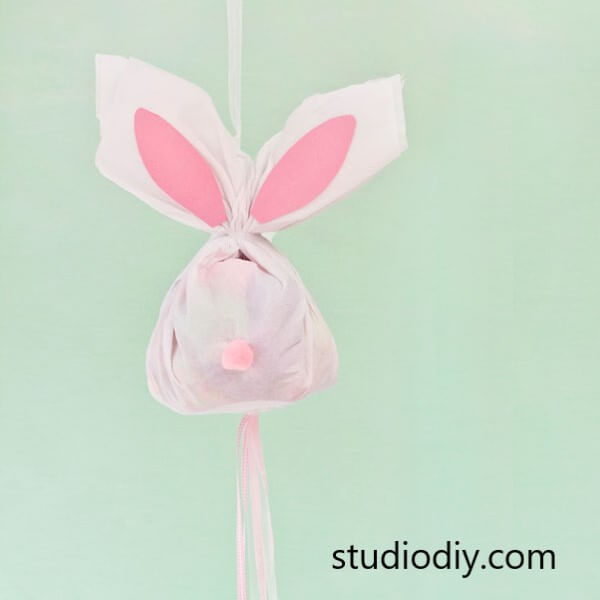 05 – Paper bag rabbit
Guys, paper bag! That's right! with popcorn bags or any other paper bag you can teach children to create this beautiful bunny. The walkthrough is here. Ah! We have an idea! How about preparing the table at Easter and leaving this beautiful bunny decorating the center of the table or on each plate? Enjoy and already fill the rabbit with eggs or another sweet and it is already as a dessert.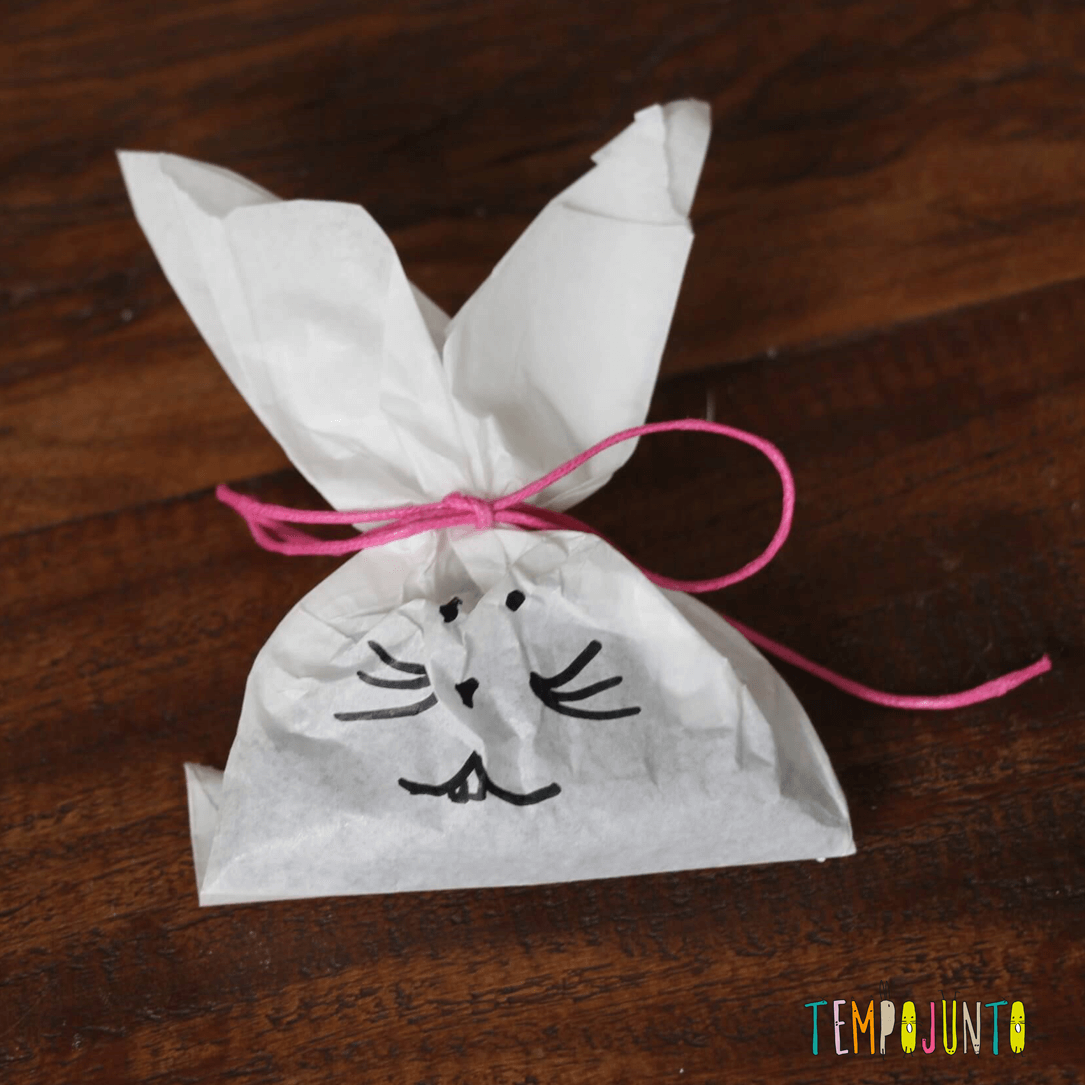 06 – Egg carton rabbit
Look, here's another tip. In addition to saving some lost socks, also keep some egg cartons. With them, you can make amazing toys! Today, our tip is to use them to show you our sixth suggestion among the 10 ideas for making an Easter bunny. Look what cuteness this bunny that you can still use to hide a little egg! We saw this idea on the Everydaydishes website and published it in post 10 easter souvenirs to do with children.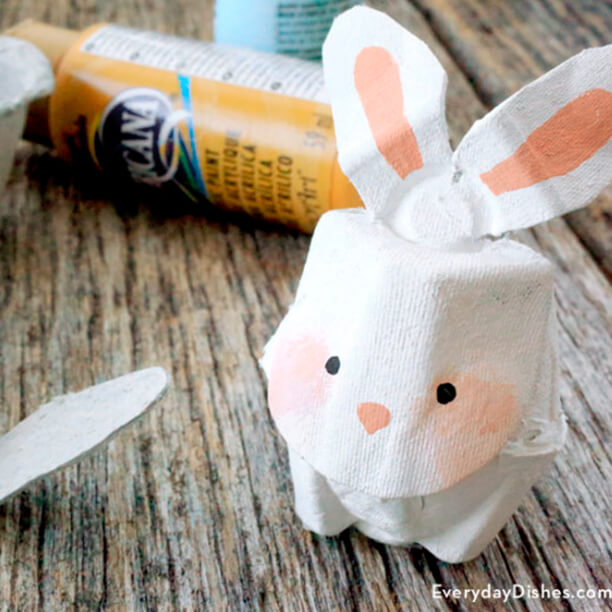 07 – Paper Roll Rabbit
One more tip here! In addition to storing socks, cups and egg cartons, also keep the paper rolls. See that cute bunny that can also be used to decorate the house and even as pencil holder. Patricia Marinho teaches in this post here how to make this Easter bunny that is super simple and creative!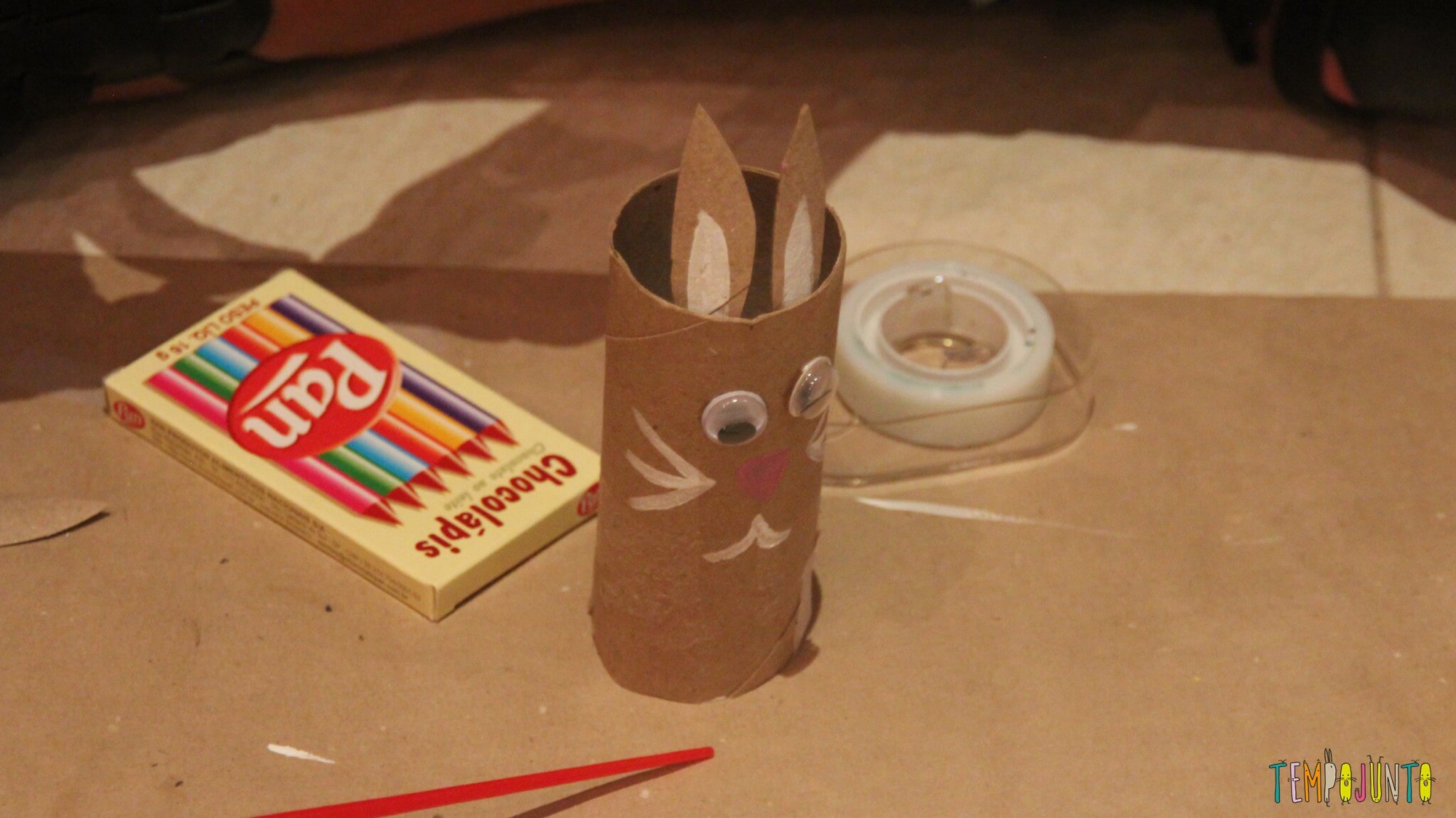 08 – Cotton rabbit
Has ideas for younger children too! We saw this suggestion on the makingthingsisawesome website and we loved it. If you don't have the pictures of the children. you can draw or leave the face of a bunny. But people! Doesn't it look really cute ?! There's the whole step by step here.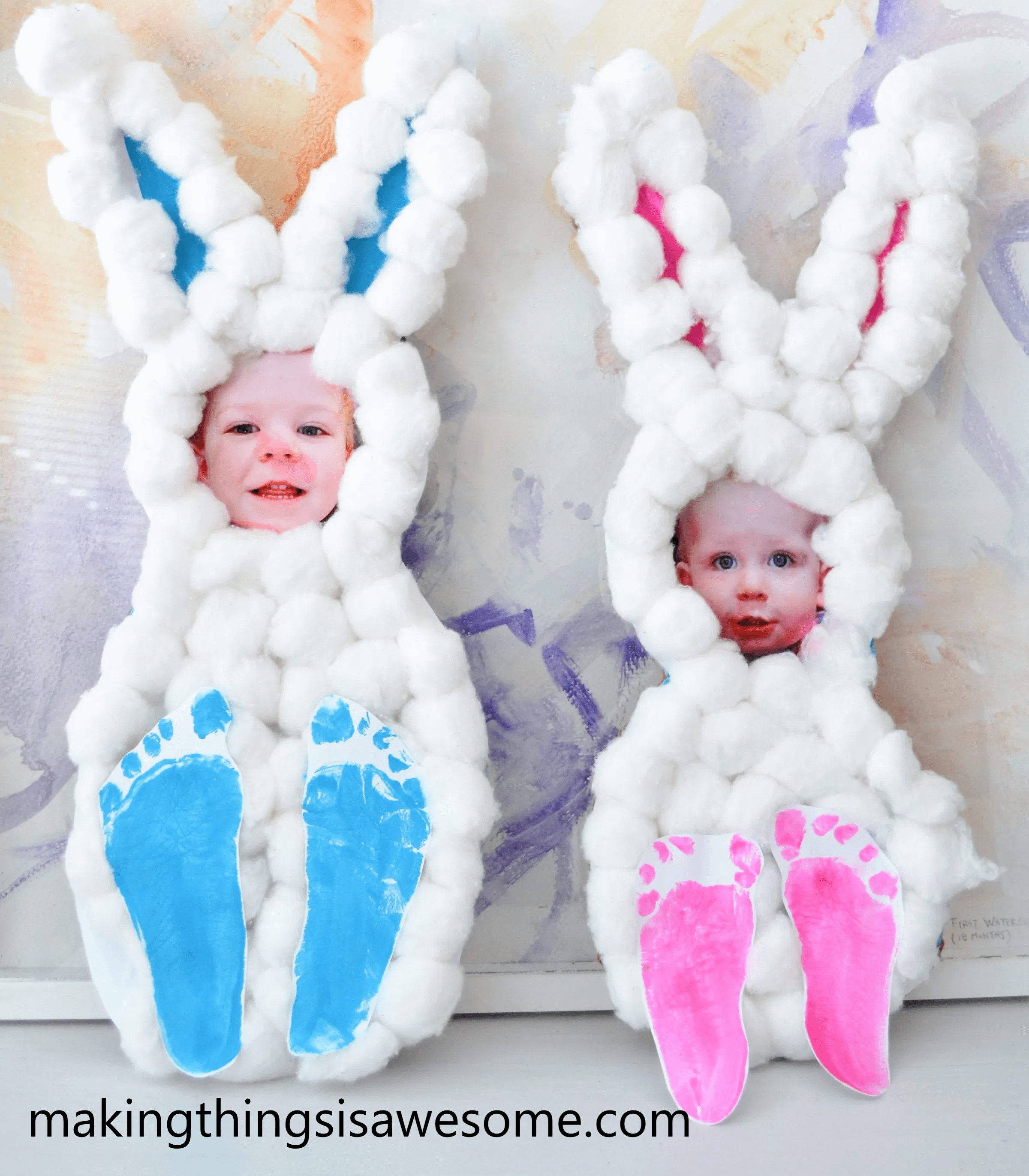 09 – Rabbit with his hands
A few days ago, Patricia Marinho published in the Instagram of Tempojunto this game she played with Gabi. She helped to make the outline and she did the details of the Dragon. To draw she used Gabi's little hand to shape the Dragon.
Thinking about this game so different and fun, we have one more suggestion on how to make a Easter Bunny also using the children's hand as a base. We saw this idea on the onelittleproject website and loved it. There's even a video showing the step by step.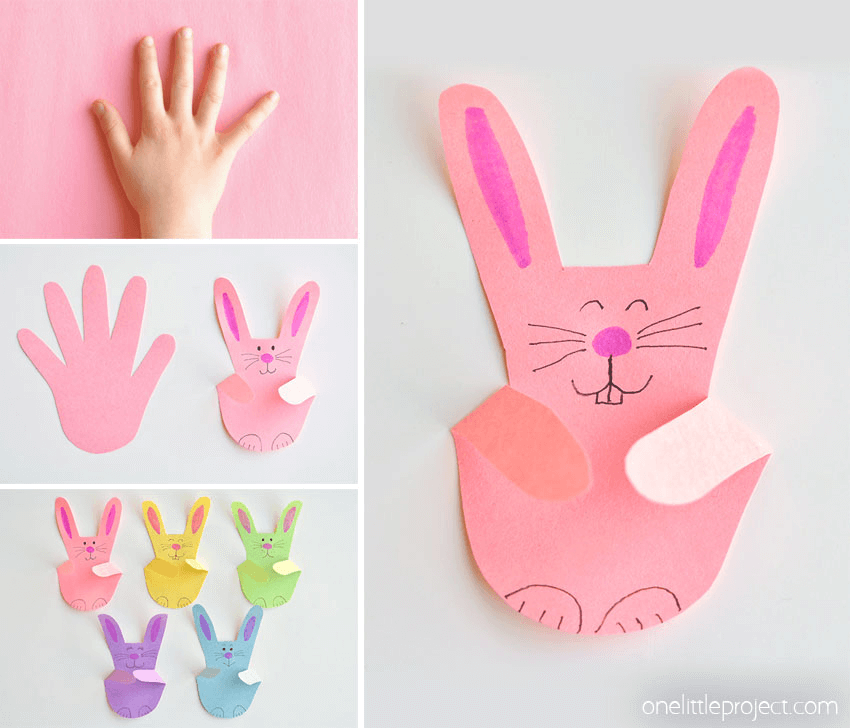 09 – Rabbit with tissue paper
Our last suggestion among the 10 ideas for making an Easter bunny is simply incredible because it is so creative. We saw this idea on Creative Crafts' YouTube. With the bigger ones, you can make the bunny and with the smaller ones you can play finger puppets! Everything is well explained in the video below.
So, we finished our post today and we want you to make the best of your Easter at home with the kids! Happy Easter and don't forget to download the Collection of Time Slopes together. Just click here.