To bring emotion and sentimental value to a gift, nothing better than putting photos of remarkable moments in people's lives and relationships. If you are looking for creative ideas for using photos in the gift that you will give to your boyfriend or girlfriend, you have just found the right place.
We found 20 gift suggestions with photos, some you only need to order and others you can get your hands dirty. Incidentally, ugly hand-made gifts also have a much more special value. So, get inspired by the ideas and surprise your love!
Digital picture frame
Let's start with a technological and very cool idea, which are digital frames. Since nobody else reveals photos nowadays, this is a practical way to have the best photos being displayed on the retro-door, which can decorate the living room, bedroom or even the office table.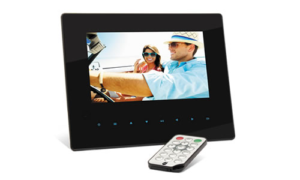 Personalized Cushion Cover or Cushion
I love this idea, mainly, for the affective value it can bring to the couple. Choose the photo of a memorable moment in the couple's life, such as the photo of the first date or the photo of the marriage proposal, and the person will always be able to hug the pillow when they miss you.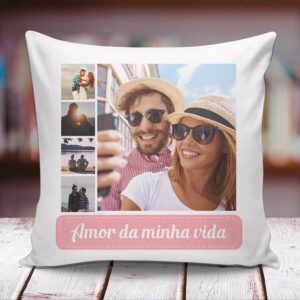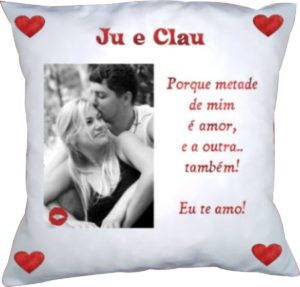 Custom mouse pad
Another idea, very simple, that you can have personalized are the mouse pads. If you find it too tacky to put only one photo of the couple, you can think of a sentence to accompany the image. Another cool idea is to ask to draw caricatures of you on the mouse pad. It looks really cool.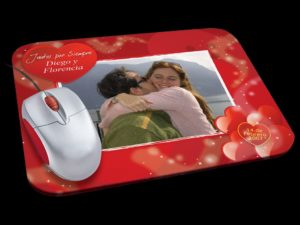 height = "225 ″ />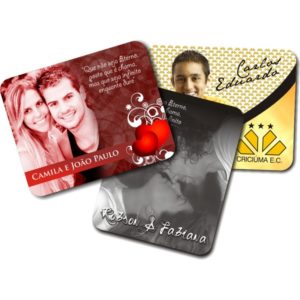 Personalized cell phone case
The cell phone cases personalized with photos are super cool and cute. Women often love this type of gift. Some stores personalize the cases for a more professional effect. But you will also find many tutorials on the internet teaching you how to make custom covers. Search.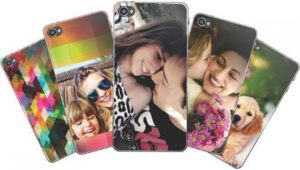 Personalized mug with photo
Mugs are also nice and very cute gifts, because everyone uses a mug every day to drink coffee, right? To upgrade your gift, fill the mug with chocolates and chocolates.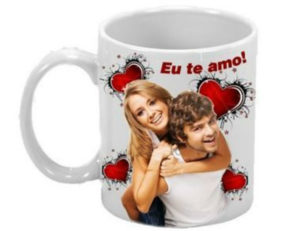 Decorative frame with photo
You can surprise your loved one with a beautiful frame with your photo. See how beautiful the panel with four frames that complete each other to form the image of the couple. It is very easy and many stores make this type of gift.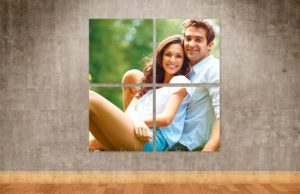 Mosaic photo frame
Here the idea is to choose a main photo (which can be of the couple or just the loved one) and dozens of other photos, which will be organized in small pixels to form the main photo. It sounds very difficult, but there are sites that do this for you automatically. All you have to do is select the photos. Then just print it out at a printer and frame it.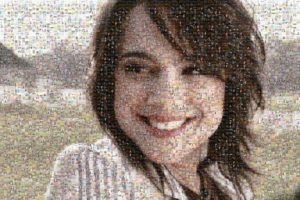 Personalized puzzle
Another very cool idea is the puzzles made with photos. You can do it yourself (look for tutorials) or you can have it done, which will give your puzzle a more professional look. Choose a nice and symbolic photo for the couple and offer to help assemble. At the end you can frame the photo. It looks really cool.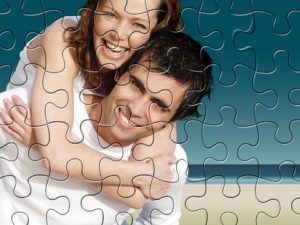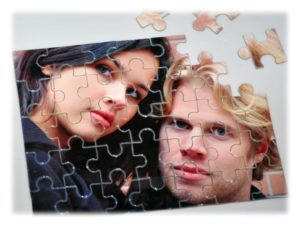 Custom Calendar
How about this super cute suggestion for the person to be able to get a different inspiration every month. Choose a photo that has to do with each month of the year. For example, in the month of vacation put a photo of your last trip.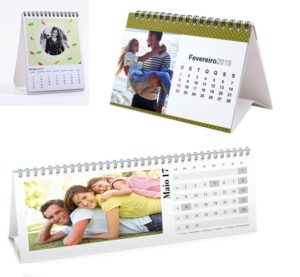 Fridge Magnet Photo
How about putting some pictures of the house in the fridge? You can make these personalized magnets using a magnetic blanket. It is very simple to make and is a super affectionate gift that will give a touch of love to the home's decor.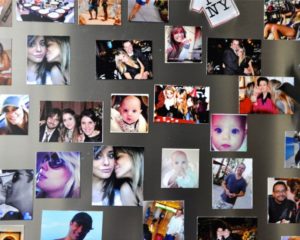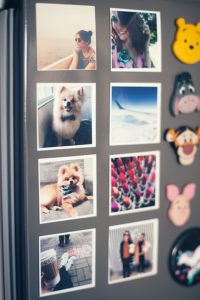 Personalized sticker album
Look at that cool idea. Create a sticker album, which tells the couple's story through several images (and even text if you want). You can even prepare a surprise and arrange with a newsstand owner to pretend to sell the stickers and the album to you.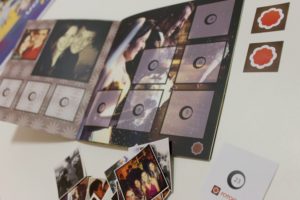 Personalized photo magazine
Or, how about, make a personalized magazine? Tell your story with phrases, some texts and many photos in a personalized magazine. Here is also the idea of ​​pretending to buy the magazine at the newsstand.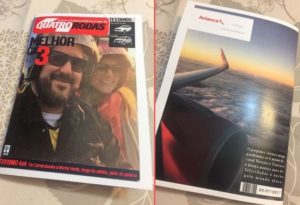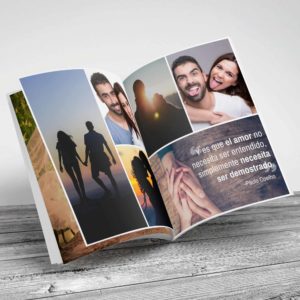 Custom bookmark
For boyfriends addicted to books the tip is on account of these beautiful bookmarks. It is very easy and you can do it yourself to surprise the one you love. Take the opportunity to also present a good book.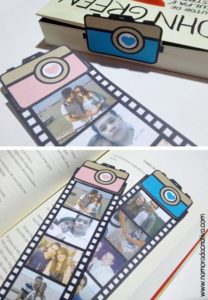 Box with personalized photos
These boxes are super cute and the person will be able to keep it in any corner and open it whenever he misses you. Look for tutorials on the internet to learn how to do.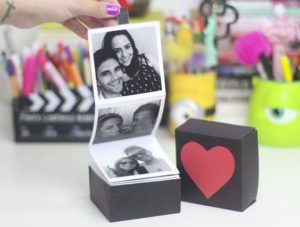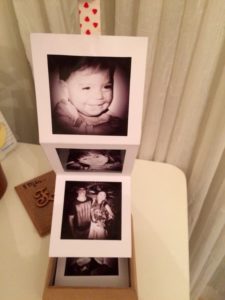 Wall decoration
Look at this incredible decoration! If you live together or if you have the freedom to create a decoration like this in your loved one's house, you can bet it's a great idea. This is a perfect gift for travelers on duty. With each new trip, a new appointment and a new photo.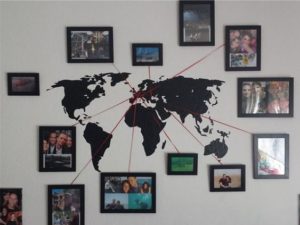 Love Wall Picture Frame
It can also be something simpler, but also full of feelings. There are many picture frames, like the one in the photo below, that you only need to choose the images of the couple's best moments.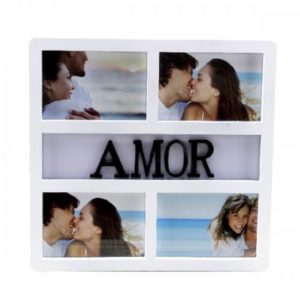 Frame with number and photos
We think this picture is also very creative, to celebrate the years of courtship or union. Cute, don't you think ?!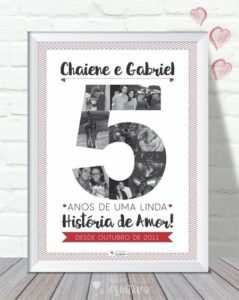 Clothesline photo frame
Another very creative idea that you will be able to do yourself is this clothesline. All you need is a picture frame, string, photos and clips or clips.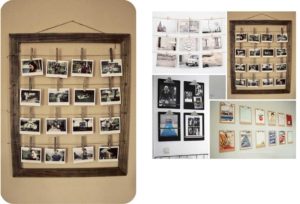 Picture frame with glass jars
A very simple picture frame to make, creative and that looks beautiful in the decoration of any environment is using glass jars. Just print a photo and put it in the jar. Decorate the lid to make it look better, and place a candle on the battery to light it up inside the jar. It looks beautiful!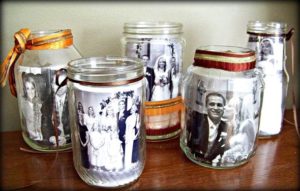 Photo Magic Cube
The magic cube takes a little more work to do, but it is also a creative and very cool gift. So, when you receive it, you can choose a different photo each day to decorate the table.